Everyone wants to see Europe, Asia, Africa, the US…river cruising provides the traveler with a fresh way of touring and your travel planner can assist you in selecting the perfect river cruise.
River cruises offer the traveler such a wonderful experience…a different way of seeing the world through a smaller, yet unique, window. A lot of travelers who love cruises are really missing them. Older travelers are looking at the world right now and wondering if they'll ever feel safe again. It will be a big decision for some people on when they should get back out there and see the world.
Of course, we are hamstrung right now by the virus and how most travel opportunities have been suspended for now. Most experts believe the latter part of 2021 will usher in improved travel options. Hopefully we'll all feel better about our safety by then.
There will still be people who will prefer a less congested travel plan to avoid overcrowding and the possibility of contracting an illness. If you are leaning in this direction, consider river cruising.

Several companies have been providing river cruises to the world for quite a while, but the trips have become more popular and plentiful over the past few years with Viking leading the way. This can be a wonderful way to see some of the smaller towns in Europe and there are also US based river cruises which are gaining in popularity.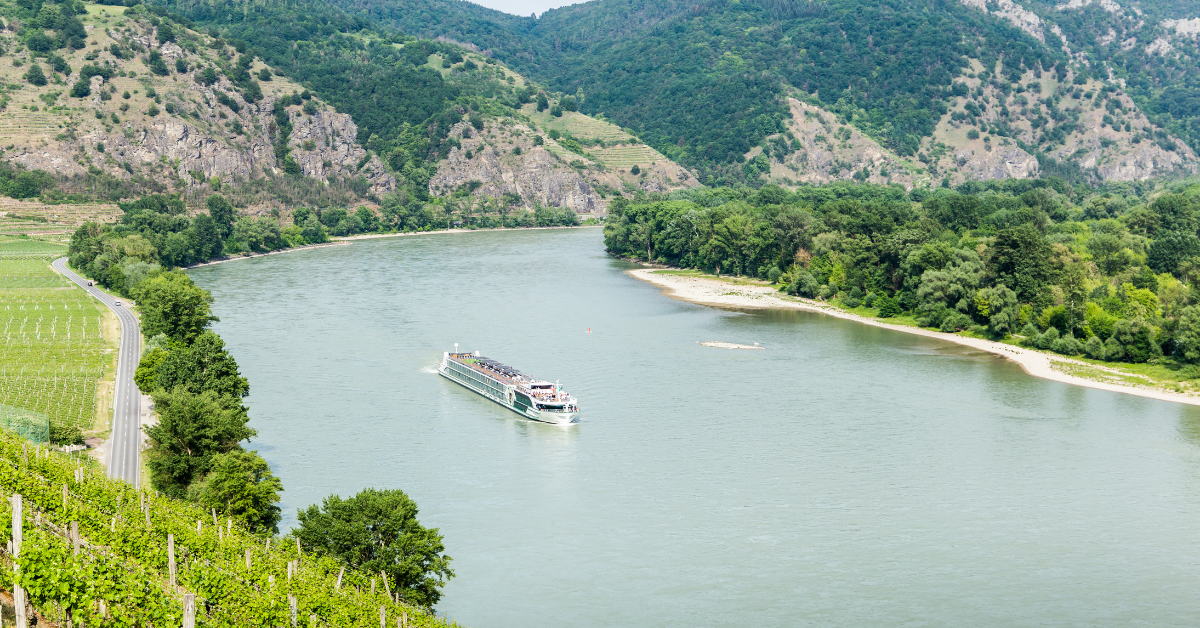 So, what are the positives and negatives about river cruising? I would think right now one of the best things about river cruising is the more intimate experience – these ships generally carry no more than 190 passengers as opposed to the thousands of people who march onto the commercial cruise line vessels. You will not be exposed to as many people thus reducing your chances for exposure to disease. The smaller size of the ship also makes getting to know your fellow travelers a bit easier. As with all facilities, the traveler's environment will be sterilized and cleaned frequently, also reducing risk of illness.
A river cruise is a bit like a land tour – the ports are the emphasis rather than the journey itself. Most of the sailing is done during the evening and overnight hours. The day tours can be long and, once finished, the passengers are treated to dinner on board the ship and a relaxing evening. The atmosphere is laid back on a river cruise ship; no casinos, which is not a plus for some people who like to gamble, and only limited entertainment is provided.
Many river cruise prices include all food and snacks, all drinks including alcoholic beverages and all shore excursions. So, while looking at the pricing of these trips, you must keep in mind what is included and know that you won't have to dig into your budget too deeply once you've paid your fare.
I mentioned there are negatives too…at least in the eyes of some travelers. First, as mentioned, the ships are smaller, so the accommodations are less spacious than a large cruise ship. There are also fewer dining options. Most river cruise ships have a small café for snacks but only one main dining room. The food is so good you probably won't mind that. Additionally, as mentioned, there is no gambling and less entertainment. I know for some that is a showstopper but when it comes to river cruises, your day tours usually wear you down a little so a nice, relaxing evening might just be what the doctor ordered.
So, who is the ideal river cruiser? Generally, these trips are geared for the slightly older traveler with interests in seeing history and culture. You will not find racetracks and rock walls on a river cruise! Some lines have a minimum age requirement so young children would be allowed on board. Honestly, these cruises aren't intended for young families because the children would be bored. I would be steering you in the wrong direction if I didn't point this out.
If you want to see and hear more about river cruising, please visit my site for a taped presentation from Cruise Planners in conjunction with several travel executives. And, of course, when you're ready to book for the future, please keep me in mind!
Janet Zirpola, Owner Cruise Planners, a full-service travel agency
I am a dedicated travel professional who loves to help clients plan their vacations whether they be honeymoons, girl's getaways or family trips. Best part of my business is I get to know people and help them select the options that are suitable for them – you work hard for your vacation and I want it to be perfect for you. When you're ready to go, so am I…the world will be open for us again and we're all looking forward to that!