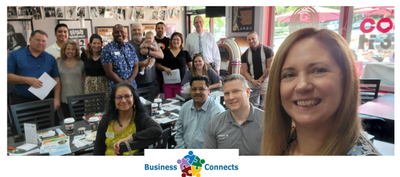 OUR VISION:
Create a local resource where local business owners can learn from and share with each other in a sustainable, community setting.
Our goal is to create a space for local NJ business owners to meet, network, and share knowledge, building valuable relationships with central Jersey businesses in the process. We know small businesses rely on their communities, and sharing resources and expertise with one another fosters sustainable relationships that organically lead to business growth.
Since 2016, our vision for Business Connects is to create a community in New jersey where hard-working business owners could truly learn from one another. Business Connects provides much more than local networking events, and members provide value far beyond traditional selling and marketing. We have created a space that facilitates the building of real and lasting relationships—which are at the core of any successful business. It's proven that people do business with people they know, like, and TRUST—and our members can attest to that!
MEMBERSHIP BENEFITS :
Within a full Business Connects membership, members receive:
Unlimited attendance to our twice-weekly meetings on Tuesday and Friday mornings for local NJ business networking


Twice-weekly opportunities to hear from different local organizations' offerings and strategies you can deploy for your own business


Quarterly opportunities to speak and self-market at chapter meetings


Weekly updates via our newsletter, including sponsorship opportunities to share local business events with the Business Connects and local NJ communities


Business exposure through various social media platforms, including LinkedIn, Facebook, YouTube, and Instagram – including Business Connects post shares


A fully Google-optimized listing on the Business Connects website directory


The ability to content market your business and submit a monthly blog for our site


An annual interview or filmed in-person intro on the Business Connects YouTube Channel
Please see our forms and procedures for directly communicating your business content (to Business Connects via email.)
Exclusive Business Connects members-only discounted fee for one LinkedIn Training session with
Jennifer Wilner
of Seeds Digital Marketing.
Sign up for our newsletter
here
.